Wood Elixir was developed by an antique dealer and restorer in Canada to solve an age-old conundrum: the finish on antique furniture is frequently in such poor condition as to require refinishing. But, refinishing is expensive and the old finish is more valuable than a new finish. Consequently, you can spend money refinishing and actually REDUCE the value of the piece.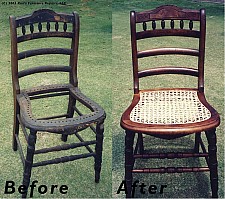 This 100+ year old chair was restored with Wood Elixir only, using '00' and '0000' steel wool. Wood Elixir removed years of dirt and grime to revive the valuable and beautiful patina. Hand weaving the cane seat completed the restoration.
Click on photo to see enlarged detail
Click here for more Wood Elixir information
On Any Type of Finish
Whether new or old, Wood Elixir can beautify and restore the finish on your wood furniture.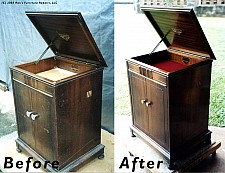 Old Victrola manual phonograph cabinet. Entire wooden cabinet was restored with Dr. Woodwell's Wood Elixir only.
Click on photo to see enlarged detail
Easy, Inexpensive and Lasting
Quickly remove oily smudges, lipstick, candle wax, wax build-up, grease, gum, adhesives, pet "accidents", etc. You can also solve many "serious" furniture problems - smoke smell, heat blush, mold & mildew removal, paint splatters, white water marks, and dried-out finish - to name just a few - in one easy step!
Click here to view Wood Elixir Directions for Use
To purchase Dr. Woodwell Wood Elixir in Hawaii, contact Ron's Furniture Repairs
(808) 261-6600
Questions? Ask Ron!
Just some of the furniture finish problems solved with Wood Elixir:
dull finish
surface scratches
tin toys
toll painting
old decals,transfers
dehydrated finish
lettering
logos
combination materials i.e. metal, wood, leather, brass
rust
oxidized paint
crayon
candle wax
ink
oil-based stains
lipstick
finger prints
smoke film
soot
smoke smell
water-based stains
silicone polish residue
wax polish build-up
magic marker
grease pencil
lead pencil
label removal
gum
mildew
mold
mildew smell
paint splatters
latex or alkyd paint smears
oil
tape
adhesives
cigarette burns
scorching
wicker
rattan
pet urine
crazed/alligator finish
Click here for more information on Dr. Woodwell's Wood Elixir